Long ago, a calendar, based on planetary alignments was created. It is believed to hold information about our personalities, formed at the time of our birth. Sound familiar? Today, this calendar is known as the zodiac and it is divided into 12 signs, represented by a specific constellation. In ancient cultures, and in some parts of the world to this day, the Zodiac is used to plan major life events such as moving house or getting married. But, did you know that it can also be used to guide your creative style when it comes to decorating your home? In this article, we focus on Sagittarius and Sagittarius home decor inspiration and discover the best ways in which people born under this sign can align their personal style with the stars.
What are the characteristics of a Sagittarius
People with a Sagittarius sun sign (November 22-December 21) are known to be independent, strong, free-thinking individuals. Perhaps this is why they typically love to travel?! Their adventurous nature and explorer mindset allows them to see life as a series of exciting experiences that they would hate to miss out on. Their larger-than-life nature does come at a price, however. After an overdose of fun and enjoyment, they love nothing more than retreating to their home which is most often decorated to portray their colourful personality.
Are Sagittarius good interior designers?
Sagittarius people are on a mission to uplift, brighten up and inspire the world around them so it should come as no surprise that people with this sun sign are highly creative. But, they do have a wild side which has a tendency to shine through in their personal style. When a Sagittarius is behind a home renovation you can expect to find bold colours, books stacked on every available surface and an unusual collection of decorations that they have personally collected from all corners of the world. The keyword for Sagittarius home decor inspiration is personality. There will certainly not be a lack of that in any Sagittarius home.
Sagittarius wall art
No home is complete without a personal collection of wall art and this certainly applies to the Sagittarius home. Just like in the Taurus home, a Sagittarian loves to display botanical prints on their wall- despite being a fire sign. This soothes their free-spirited ways and feeds their sense of wanderlust. Tropical palm trees are a top choice since they will transport the Sagittarius mind to far-flung treasure islands. Goddess prints or anything mystical will also appeal since the Sagittarius mind loves to be occupied with topics of spirituality, philosophy and religion. They don't shy away from heavy topics nor are they concerned about exposing their curious, avant-garde interests for all to see. So, expect to feel inspired and enlightened by the Sagittarian choice of limited prints and original artworks displayed on the walls of their home.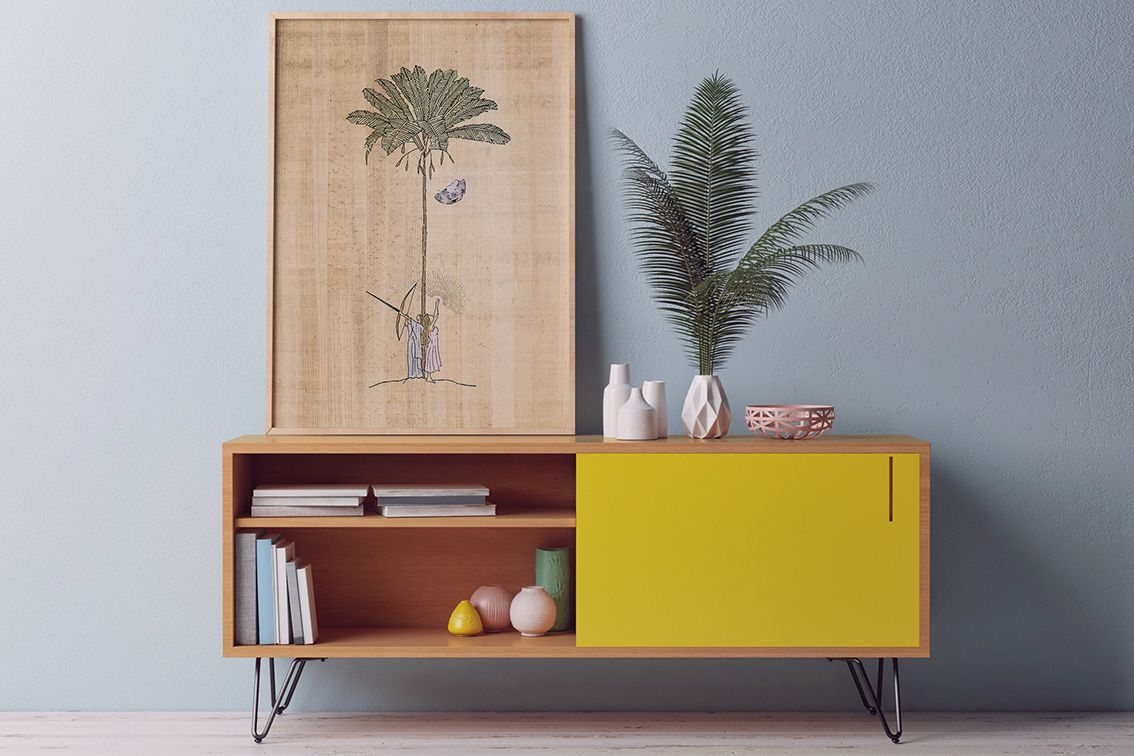 Sagittarius wallpaper inspiration
We already know that Sagittarians are not shy and this is also true when it comes to their interior decor choices. Wallpaper is not an uncommon find on the mood board for Sagittarius home decor inspiration. But, of course, it won't be any normal wallpaper – it needs to stand out. Sagittarians want their home to be steeped in meaning. Their love for nature and a keen interest in New-Age sciences allows them to explore all kinds of visual inspiration that can be filtered into home decor. If budget permits, the idea of collaborating with an artist to create custom wallpaper would be a very Sagittarius thing to do. If designing an original print design would be too much, many artists would licence their work for a fee for creative projects like this. Motifs such as an ancient monument, a bohemian goddess or a spirit animal would all be top Sagittarius choices.
Sagittarius bedroom colours
Since Sagittarians like to feel free and not tied down to anything or anywhere, the best idea is to opt for natural colours and textures for the walls and furniture and then embellish the space with pops of colour. These accent colours would represent the spectrum of fiery colours commonly associated with fire signs. Pumpkin orange, canary yellow or broken russet red are all colours that fit into the Sagittarius home decor inspiration plan. Just like in many Tropia prints, these fiery top notes add life and vibrance to the papyrus-coloured, rustic base notes of the blank canvas, in this case, the walls of the room. Add in fiery bursts of colour using wall art, artisan ceramic flower pots and soft furnishings.
Sagittarius home decor inspiration: The living room
The scattered nature of those born with a Sagittarius sun sign, mixed with their untamable appetite for travel creates a style that is akin to that of the Bohemians of the 19th century. With that in mind, our Sagittarius home decor inspiration for the living room focuses on the colour purple. A colour directly linked with spirituality, playfulness and a rock and roll attitude that only people represented by the archer can pull off. Bohemians valued art over everything so choose artworks like our Wolf Moon print that combine wildness with the feminine colour purple. Ensure that there is enough wall space to create a gallery wall since the living room is the focal point of the home and Sagittarians are proud to show off their style and good taste in art. Keep furniture to a neutral palette but ensure that each piece is different. Vintage finds are perfect for this, especially since they also come with a backstory.
Sagittarius decorating style: The home office
Sagittarians are highly intellectual and love nothing more than diving into a new book – even better if it involves travel. Yet, it is important to recognise that in the Sagittarius home decor inspiration plan, there must be plenty of visual decoration to cure the wanderlust this sign feels. Create a reading nook inside the study so that the Sagittarius homeowner can escape into the pages of a good read when life gets too much. And, on the other walls, fill them with prints of exotic flowers, scenes from far-off tropical lands and other mesmerising visuals so that the Sagittarius mind can roam free. Not only will this help to boost their mood but also they will feel recharged and full of creativity, ready to tackle their workload.
What should a Sagittarius room look like?
So, as you can see, there is not one fixed style when it comes to planning out Sagittarius home decor inspiration. But, then again, Sagittarius people are also a maze of fascinating information and certainly not content to be reduced down to one style. In order to create a home that any Sagittarius is proud of, the key takeaway tips are:
The Sagittarius home is an extension of their personality so fill the home with the interesting items they have collected throughout their life.
Purple is an important colour as it represents spirituality. But, bold fiery colours are also a popular choice
Sagittarians love nature and will try to bring it indoors through their interior decor choices
Art is also an important feature in the Sagittarian home and they won't shy away from commissioning original artworks from their favourite artists.
Are you passionate Sagittarius Nomad? Read about the top art scenes in Mexico 2022