For many, yoga is more than a way of staying in shape. It is a lifestyle. If you own a yoga studio or have created a sacred space inside your home which you use to practice, you will know how important it is to create a space full of intentions. Yoga studio wall art is a great way to inspire practice and calm the mind. Plus, it can be easily upgraded and changed to match your changing tastes.
Before you choose your yoga inspired artwork, get to know the history
It is hard to believe but Yoga is an ancient ritual that has been practised for over 5000 years. The origins of yoga trace back to India where the Indus-Saraswati civilisation sacrificed the ego through wisdom, action and self-knowledge. This practice is known today as Yoga. Nowadays, there are endless varieties of yoga available but the essence remains the same throughout. Yoga is a lifestyle and a belief system that is designed to enlighten the soul. Many choose to honour this within their yoga studios or shalas and this is easy to achieve through the correct yoga studio wall art. Focus on artworks that calm the mind and instantly draw you towards them. The more intuitive you are when selecting art for your studio, the better. After all, there is no place for ego in yoga.
The Yoga studio wall art guide
Deciding which artworks to choose for your yoga studio may set your head into a spin. But first, it is important to set the intentions for the space. What is it that you want to achieve? A sense of calm? A feeling of being energised? Or, do you want to educate those using the space? Once you have decided upon your motive for decorating the space you can begin to think about colours and aesthetics. Since yoga studios are spaces that are used by people of all backgrounds and ages, it is ideal if the decor is kept neutral so that all feel welcome. This can be achieved by decorating the space with prints of nature, yoga inspired art, moon cycle or zodiac art and other eye-catching prints.
Types of wall art for yoga studios
To achieve a sense of calm, it is ideal to focus on one theme. As mentioned above, this can be botanical, yoga poses, line drawings or inspirational yoga art. There are so many types of wall art for yoga studios but by choosing one theme and sticking to it, your decor will remain uniform and consistent. This is key to creating a peaceful and relaxing space.
Botanical minimalist yoga prints
Bring nature indoors in the form of botanical wall art prints. Depending on your space, you may opt for some bold tropical plant works of art or choose a feminine floral theme. The choice is yours. Consider which colours will best aid meditation. Green is the colour of the heart chakra which represents love and healing. To ensure your space has a soothing effect on those using it consider decorating the walls with works of art that showcase palm trees and picturesque green foliage. These prints can be combined with pressings of real foliage collected from nature or photos of the outdoor space surrounding your studio.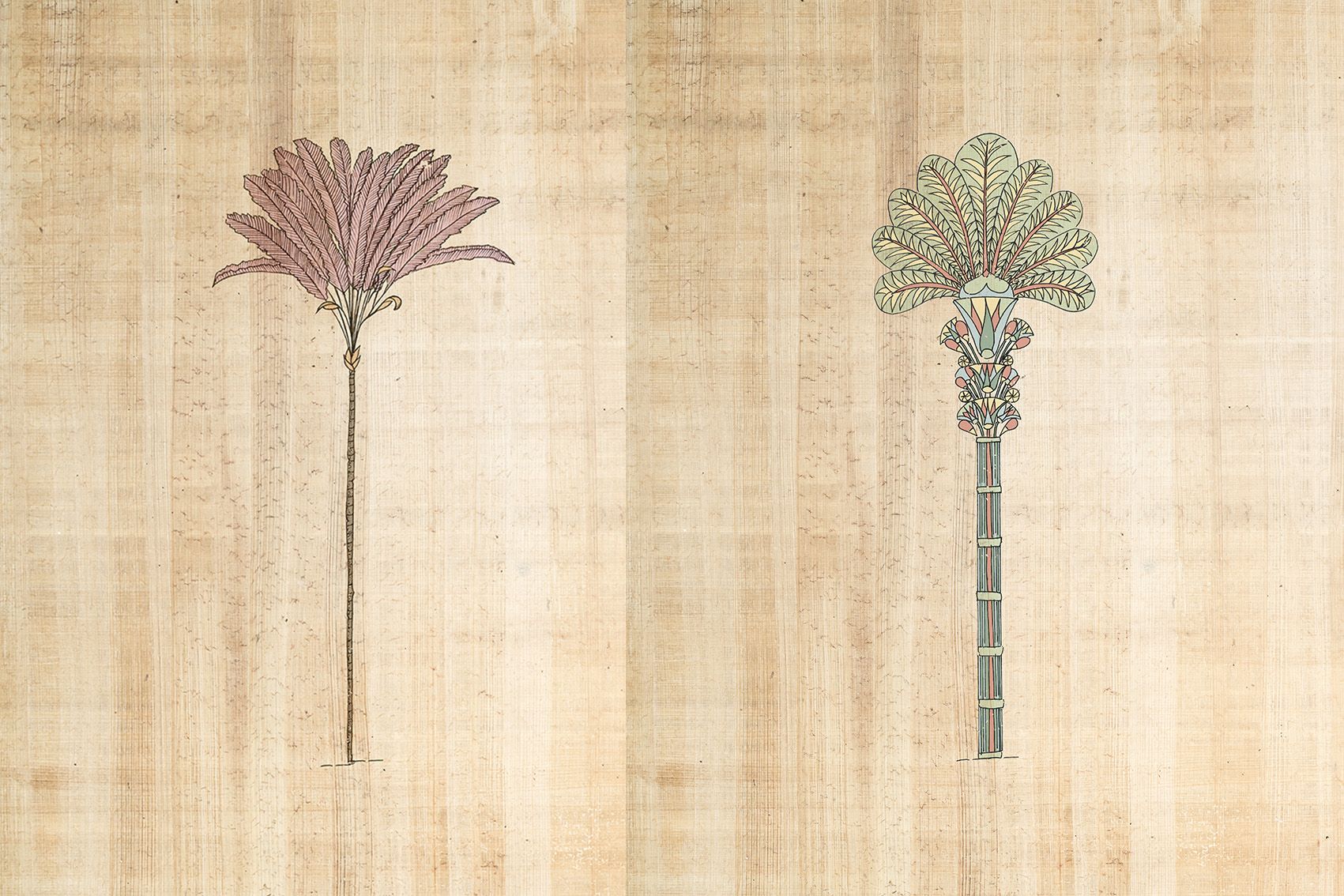 Yoga Poses art
Make sure that you are never lost during yoga practice again with yoga studio wall art decorated with yoga poses to guide you in your practice. Not only are the asanas striking to watch, but they are also steeped in symbolism and meaning. Asides from being a great conversation starter, yoga pose wall art will also set the tone of the space and aid relaxation. Keep things simple and elegant with hand drawn line art, or, experiment with colours for a creative touch. The important thing is to create the impression that the yoga mat is like a magic carpet, ready to transport the mind, body and soul to higher realms.
Home yoga studio art decorating ideas
Yoga is best practised daily. So for many of us, this means finding a corner of our home where we can unroll your mat and unwind. First of all, make sure that the space is decluttered and full of natural light. Bonus points if there is a window you can open to let air in. Add in houseplants to purify the air and freshen up the space. Boston fern, a snake plant or English ivy are low-maintenance choices that we recommend. Remember that harsh colours disrupt the flow of energy and can cause stress so stick to neutrals. To do this, choose yoga studio wall art such as prints or tapestries. Keep on theme and choose Indian inspired art filled with natural motifs or references to goddesses or gods. Just make sure that the works of art that you choose fill you with joy.
Yoga studio decor ideas
Since yoga is about banishing the ego and elevating the soul, use this as the theme for your studio decor. Create an altar or shrine as a focus point for the studio and dedicate this space to the soul. Choose soulful art prints stepped in symbolism or dedicate the altar to a specific goddess such as the flower goddess. From this, carry on the theme across all walls by mixing prints with shelving to house artefacts and items such as scented candles or incense.
Large yoga wall art
Large, open plan spaces lend themselves well to large canvases or tapestries that allow you to make a statement. Mandalas are an obvious choice for this kind of decor since their intricate detail can be admired on a large scale. But, yoga studio wall art can be used to represent anything. From channelling the wisdom of the animal kingdom to encouraging strength and inner courage to show up as we are in the world. As you can see, there are no rules when it comes to decorating your yoga space. Yet, there are some decor styles that are recommended for their calming properties. Just remember, less is more and stick to neutral colours.
You might also be interested in:
Collecting Valuable Art Prints like a Pro
Check out our best-selling: The Moon Tarot Card Art Print & Noah's Ark Print