For many, home is a sanctuary, a shelter. For others, it is a blank canvas just waiting to be infused with personality. We all want to feel connected to our living space and an easy way to do so is to decorate. Something as simple as sourcing wall art for the living room not only adds a fresh new look to our four walls, it can also boost our mood and overall well being while at home. Ensure that your space feels like a calming refuge from the outside world with our guide to decorating with living room wall art.
The wall art guide for your home
Choosing the ideal art to adorn your walls may feel like a daunting task, but, in reality, the concept is simple. Works of art add life, colour and creativity to all corners of your home. Plus they dictate the mood of a space. In the Palaeolithic times, when humans lived in caves, it was common to find cave paintings that told mystical stories, acted as vision boards and were used to ward off evil spirits. Today, the concept of wall art has advanced but the idea remains the same.
What type of paintings should be in the living room?
The living room is the heart of the home. It is the place where you retreat after a long day. But, it is also a place for gathering loved ones and entertaining them. This multi-functional corner of the home has to work hard to be the perfect backdrop to all of life's events. For this reason, it is best to focus on a neutral colour palette and natural textures as these boost the feeling of calmness. Whether you are an art collector, a nature enthusiast or a minimalist at heart the same visual themes apply when choosing living room wall art.
1. Create calmness with botanical prints for the living room
Bring the outdoors in with a botanical theme. Escape to the depths of the jungle or journey to an English country garden with plant themed wall art. The natural colours will have a soothing effect on the surroundings while also reminding us of Mother Nature's beauty. Depending on your space, you could opt for some bold, tropical florals or choose something more traditional such as vintage botanical lithographs. Just remember, the plant world is steeped in symbolism so choose your prints wisely.
2. Enchant your guests by adding animal magic to your walls
Create an artistic menagerie inside your home and choose an animal theme for your lounge wall art. From majestic hunting animals such as wolves and lions to stubborn bulls and slithering snakes, the animal kingdom is a riot of fun and personality. Honour your spirit animal by placing a portrait of them on your walls. Or simply allow the wild nature of animals to inspire you. This kind of wall art for the living room also makes great conversation starters as nearly everyone shares a connection to a creature great or small.
3. Let the mind wander with landscape wall art
With travel feeling like a distant memory these days, fill your home with pictures of far-flung destinations. Get swept away on an Atlantic ocean breeze, run wild across barren desert landscapes and feed your forest soul all from the comfort of the sofa. These natural scenes will spark endless daydreams and fire up your curiosity to discover the world.
KEY TAKEAWAYS:
Use a neutral colour palette for a relaxed feel
Landscapes, animals and plants are ideal living room wall art themes
How to display wall art for the living room?
Once you have decided upon your wall art it is important to consider a few essential interior design elements. First, take into consideration the scale of your living room. Does the space favour smaller works of art or can you be bold and feature a large scale work? Next, think about the walls. Are they painted, and if so, which colour? Is there wallpaper to contend with, and is it patterned? All of these things will influence your decisions.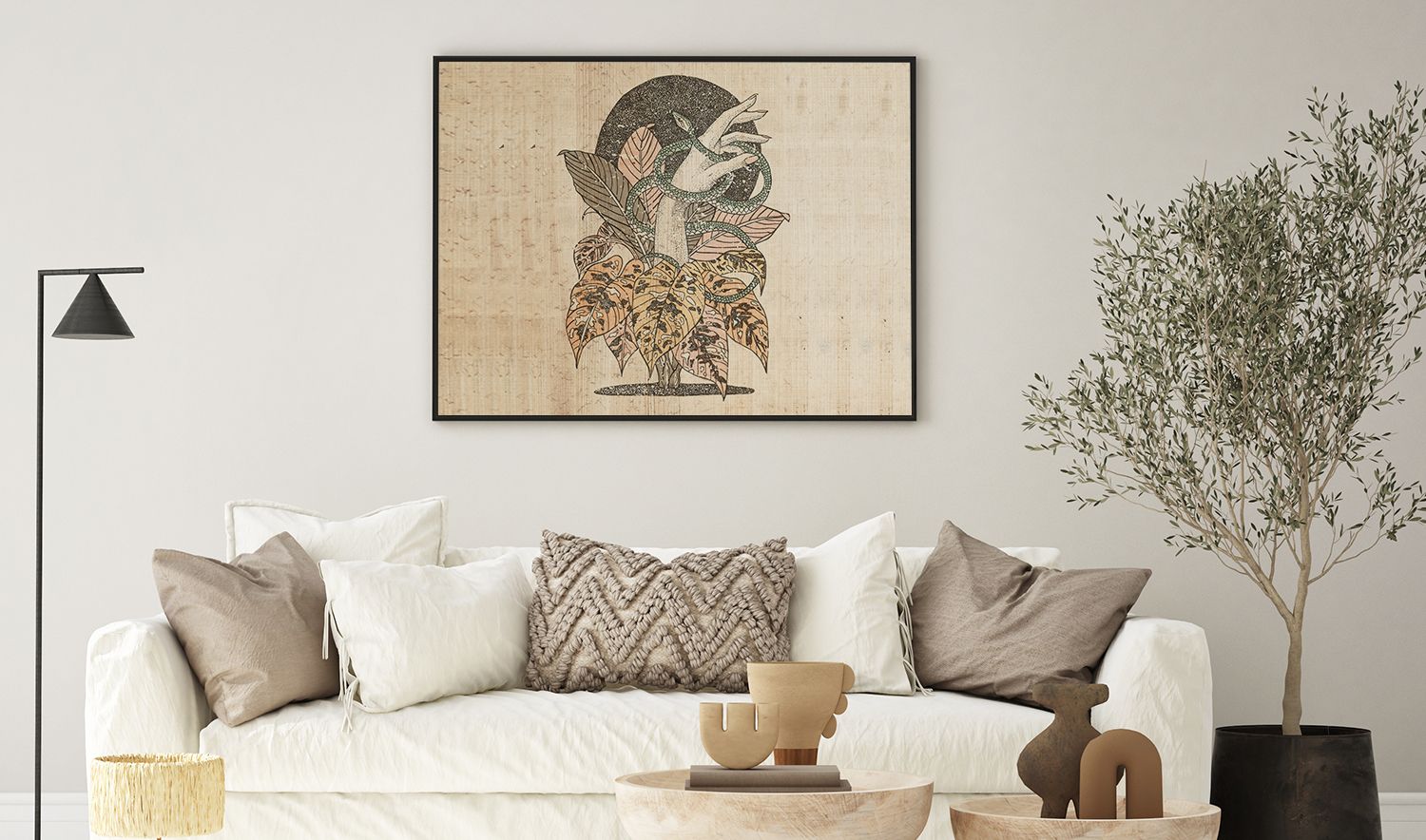 Get creative with how you display your wall art. The area above the sofa is a classic choice and will help to create a focal point within the room. But there are so many more options to display wall art in the living room:
1. Living room gallery wall
Create a serene ambience by mixing and matching prints based on their colour, style and texture. For example, consider displaying a mix of still life, figurative works and landscape prints together. And, be sure to vary the mediums – oil, collage, photography as well as the type of frame used. To do this, a gallery wall works best. Since you want to create a zen den, consider natural wooden frames or if you want to add colour, think about white or gold.
2. The centrepiece of an altar with art for a small living room
Manifest your dreams into reality and create a sacred corner of your lounge. This idea is often referred to as an altar space. The concept essentially translates to carving out a dedicated space where you can place tokens (magical or otherwise) that inspire you on an energetic level to become your higher self. There is nothing to say that you cannot use this space to display an artwork that spiritually inspires you. After all, that's what creating a sanctuary is all about, right?
3. Create an empowerment wall
We can all use an old fashioned pep talk every once in a while. But, if you live alone an empowerment wall is a good second choice. This is essentially a gallery wall set with intentions. Combine motivational quotes prints, a mirror and an image of a goddess or other empowering figure and place them together close to the door of the living room. Any time that you are feeling down, go to this corner and channel the energy that is transmitted from your sacred selection of artworks.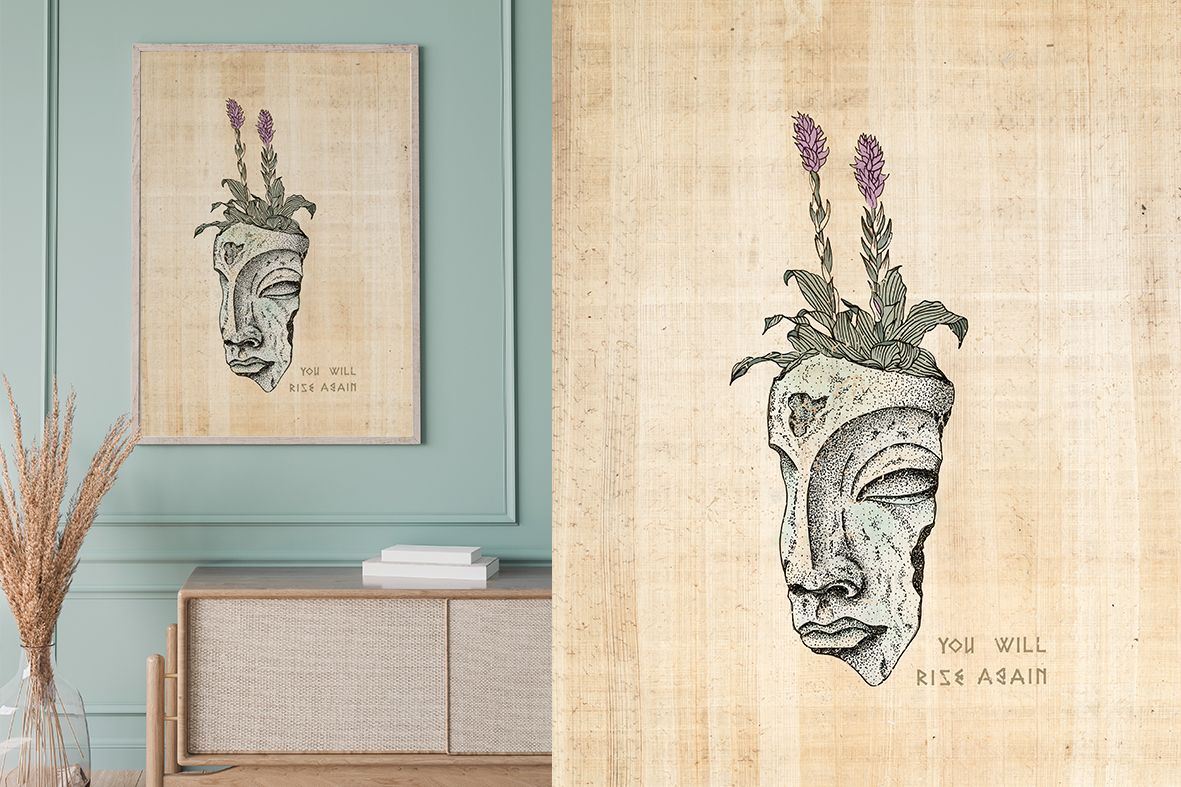 4. Raise the bar and display the best artwork for the living room on floating shelves
Who says that wall art for the living room has to be nailed to the wall? Play around with height and depth by choosing to display your prints on floating shelves. Invest in good quality, sturdy options so that you can combine your wall decor with stacks of books, travel souvenirs or sculptures that cannot be mounted onto the wall. This is a great alternative if you want to opt for seasonal decoration as you can easily swap and change what is displayed.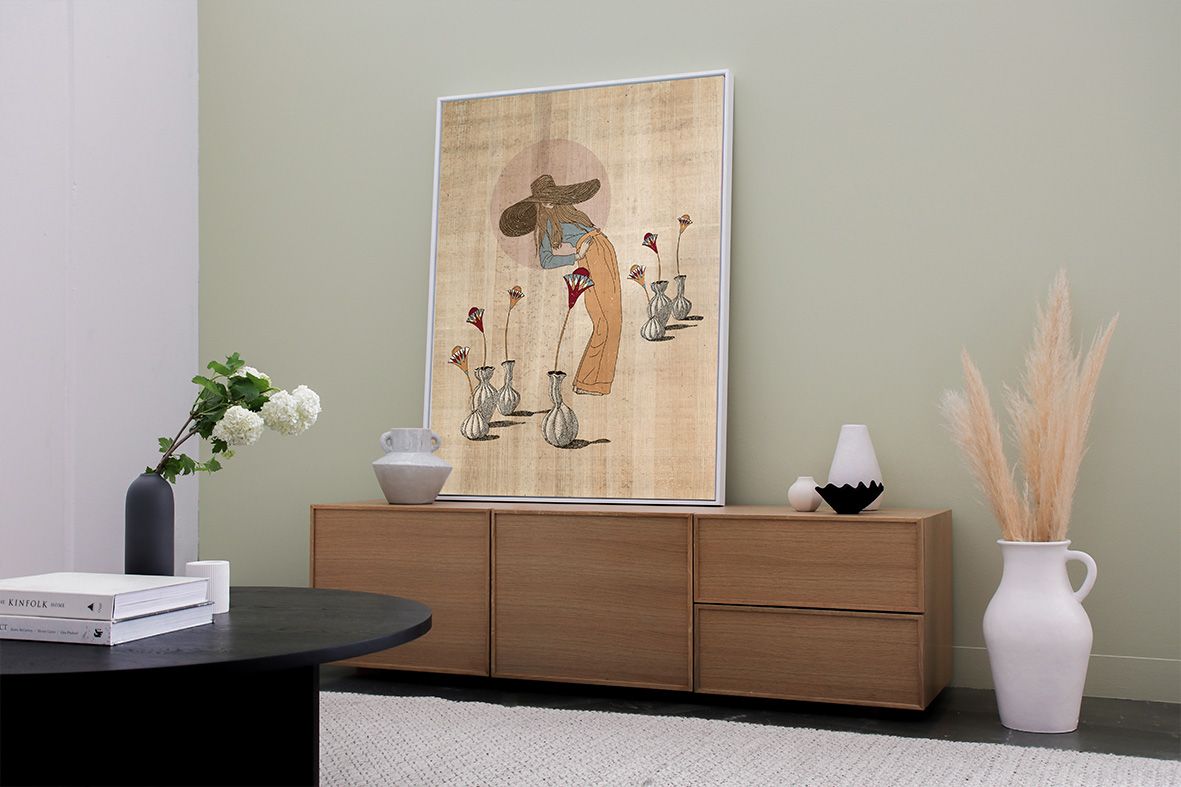 KEY TAKEAWAYS:
Research your space before selecting any art – scale, size, lighting, colour scheme
The area above the sofa is a popular space to display wall art
A gallery wall adds a creative touch to your room
Artworks can be used to empower and inspire you
Floating shelves offer an alternative way to display art
Choosing art for a large living room
If you have a large room to decorate, you need oversized wall art that packs a punch. Large spaces lend themselves well to the bohemian style of wall art for the living room since you can layer up various colours and textures without running the risk of overcrowding the space. This style is all about unleashing your free spirit and expressing yourself through your space. Think 'go big or go home'. There are so many ways to incorporate large wall art into your home. A few of our favourites include:
A split print canvas that divides one image across three canvases of varying sizes
A floor to ceiling gallery wall that shouts 'more is more'
Using quilts as wall hanging tapestries for a cosy, welcoming vibe
You might also be interested in: Wall Art For Yoga Studio