Bohemianism is widely associated with an unconventional lifestyle heavily influenced by the creative arts and anti-establishment viewpoints. It is a rejection of the social norm and a celebration of the creative spirit. But where did this movement originate from and how did it get to be watered down to become a commercial interior design trend? Today, boho home decor is symbolised by a carefully curated palette of neutral colours held together by the occasional macrame wall hanging or goddess art. Yet, this is a far cry from the true meaning of bohemian home decor. The original bohemians expressed their viewpoints through free love, frugality and sometimes self-imposed poverty. This was reflected not only through their choice of dress but also in their living conditions.
Who were the real bohemians?
While it may seem hard to believe, the French Revolution plays a big part in the creation of the Bohemian movement. This is because, at the time, artists were considered to be tradespeople and lowly members of society. They were employed by the aristocratic families to paint their portraits and any other subject matter that was deemed appropriate by the wealthy families of the time. Artists needed the patronage that these families provided to survive. However, many rejected the cold, rational ways in which aristocrats viewed nature and the world around them. There was a hunger to embrace nature in all her beauty, freedom and spirituality. Those that chose to break away from their patrons were associated with the dangerous, free-thinking ways of the Romani people, known as Bohemians, who were thought to have travelled to France from Bohemia.
Bohemian theme decor: The rise of Bohemian style
Over time, an effort was made by artists to distance themselves from the Romani 'gypsies' who were seen as villains and assassins by society. Artistic outsiders came together and created a mantra for their Bohemian movement which proclaims life should be lived with 'Truth, beauty, freedom and love' above all else.
This small group of artists caused an international sensation, inspiring other artistic movements across the globe.
The morally ambiguous, unconventional and romantic bohemian movement was a backlash to the stiff and rigid lives lived by the Bourgeoisie at the time. Artists, writers and philosophers were forced into poverty and many shared living spaces as a way to save money. The style that arose was a mismatch of colourful Romani culture, mediaeval folklore and mysticism – a complete rejection of the fashion at the time.
Boho home decor today
The threadbare and bright nature of Bohemianism inspired famous movements across the world including the Beat Generation of 50s America. However, the arrival of the 60s brought with it an eradication of the class system thus, removing the very thing Bohemians were reacting against. This gave birth to the boho-chic movement, similar to Bohemianism in a visual way, but lacking the social and creative emphasis that the original bohemians fought for. Boho home decor is a chaotic mix of colours, textures, patterns and styles, carefully curated to reflect the personality of the homeowner. It does not follow any hard or fast rules, instead opting for a free-flowing decoration style that mixes found objects with natural elements and combines vintage items with luxury soft furnishings.
What are the colours for the Boho style?
Much like the natural colour palette used throughout Tropia, the bohemians opted for colours that celebrated nature. Woody browns, forest green and rich jewel tones were key colours used in boho home decor. These colours create a sense of calm and convert the home into a sanctuary, which was much needed amidst the backdrop of tumultuous social change unfolding around the turn of the century. The colours used today for boho home decor are not a far cry from the original colour palette. Only now, the trend has put a greater emphasis on the neutral tones used. Imagine the golden hour of the day with its russet-red sky, pale gold sandy tones and swan white highlights and you get the colours of the modern-day bohemian. Warm, natural and sumptuous.
Get some extra help with
our wall art guide
How can I make my house look Bohemian?
The key to boho home decor is to be yourself and let your free spirit run wild. The essence of Bohemian decor lies in creativity and frugality. This lack of perfection and relaxed approach to decorating allows you to throw together all your favourite items, showcase your art collection and curate a space that is unique to you. There are no rules. And, since there are so many styles under the umbrella of Bohemian style, you are bound to find one that resonates with you. Yet, there are a few elements that hold all Boho home decor styles together.
Art is the protagonist, let your creative soul be free and fill your home with art, of all kinds. Celebrate nature, ideally by turning your living space into a mini jungle but if you are not green-thumbed then incorporate nature into your choice of art. And, last but not least, layer soft furnishings to create a soft and sumptuous environment.
Choosing Bohemian wall decor
Since art is the driver behind the bohemian movement, it makes sense for it to take centre stage within your home. Become a patron of the arts and seek out local, independent artists who sell limited edition prints or original artworks. By buying art directly from the artist, you are not just supporting them on their creative journey but are directly making a statement that you stand for creative freedom. Embody the essence of the bohemian movement and focus on filling your home with art that goes against the mainstream style. This could be in the form of art that symbolises a social commentary like much of the work emerging from the Mexican art scene. Or, work like Tropia which is steeped in folklore and mythology – one of the key influences of the original Bohemian movement. Fill your home with art that speaks to you on a soul level and holds a deep, spiritual meaning. This is the essence of Bohemian living.
Bohemian decorating ideas for the living room
Since the living room is the heart of the house, this space should be a shrine to your most treasured items. Whether you opt for a traditional, rich Bohemian colour palette or a more modern, light and breezy tone, your Boho home decor needs to feel sumptuous and inviting.
Think of the artist soireés of the 19th century which were full of romance, beauty and creativity. Women wore silks, velvets and flowers in their hair, the furniture was low lying and the artists gathered by candlelight to paint their muses. Add velvet sofas to your space, layer up Afghan-style rugs and place lanterns of varying heights across your surfaces to recreate the soft lighting of the 19th-century bohemian soireés.
If the tropical Bohemia style appeals to you more, embrace its natural colours and textures in your interior decor. Choose botanical wall art for the living room that features plants such as palm trees and other tropical flora and fauna. And, balance out the greenery with natural linen soft furnishings, and natural objects such as shells, rocks and crystals collected from your travels. Let natural light flood the space and make sure that your wall art makes a statement both in size and in the subject matter.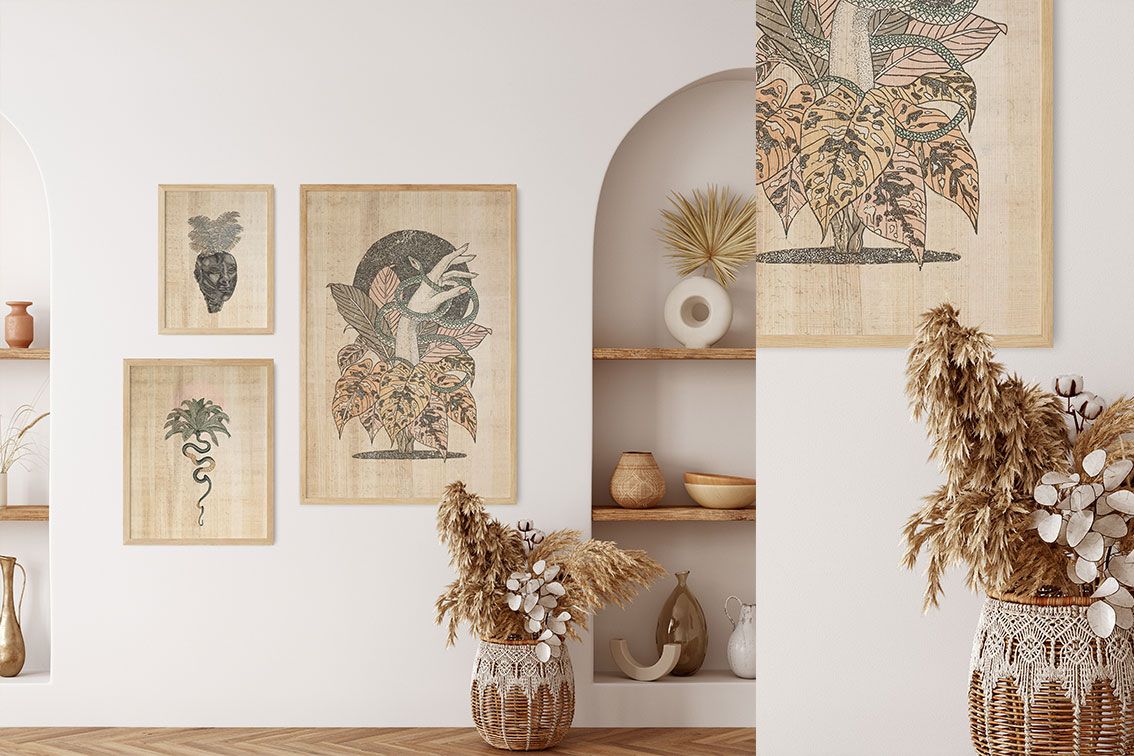 Bohemian decorating ideas for the bedroom
If the living room is the heart of the home, the bedroom is the brain. It is our refuge and sacred space where we retreat after a long day. Therefore, it is essential that this space makes us feel calm and rested so that our creativity can thrive.
Just as you would for any room, choose a warm, earthy base colour such as an off-white or a dusty cream for the walls. This provides a blank canvas on which to layer up your chosen colour palette and patterns.
First, since art is the foundation of Boho home decor, it is essential to place your chosen works of art centre stage. Since you use your bedroom in the evenings, choose art that represents the night. A depiction of the lunar cycle or a Goddess that represents the soul of nature would both be appropriate subjects for bedroom wall art.
Next, choose natural materials for your furniture such as wood or organic fabrics. Depending on your Boho home decor style you may want to choose thrifted items or vintage finds for your furniture. Then begin layering up soft furnishings such as hand-embroidered blankets, patterned pillows and patchwork quilts. The more inviting you can make it feel, the better.
What makes a home Boho?
As you can see, there are so many elements that go into the Boho home decor trend. But, there is one that remains the same ever since the creation of the Bohemian movement in the early 1800s. Art! Essentially the Bohemian movement is a celebration of creative freedom. So, a Boho home today is one that is dominated by art. But, not just any art, a Bohemian home is a showcase of independent art that celebrates nature, folklore and mythology. Just like the Tropia limited edition prints, Bohemian art shies away from mass production, mainstream themes and pop culture. Boho home decor follows the same principles making it a truly unique and creative interior design trend that will constantly evolve with the changing times.