The Virgo zodiac sign is used to describe those born in late summer, between the 22nd of August and the 21st of September. Traditionally, this sign is associated with the goddess of wheat and agriculture which further enforces their materialistic nature. Yet, this earth sign is pragmatic, sensible and loyal. They are perfectionists at heart and this extends to their home decor choices. They are in control of all the details… or so they wish you to believe. Virgo decor for the home matches their earthy qualities from the neutral colour palette to the neat and orderly decoration, everything will be aesthetically pleasing in the Virgo home.
Virgo decor decoded
If you want to get a feel for Virgo decor, just look at famous Virgos like Cameron Diaz or Beyonce Knowles. Cameron Diaz's Montecito mansion is the epitome of Virgo style. Its classic, simple and elegant interiors are calming to the eye and don't detract from the magnificent views that can be seen from the large windows dotted around the home. On the other hand, Beyonce's sleek, minimal Bel Air mansion offers an updated take on classic style with features like a leather staircase and a bathroom with glass walls overlooking her tree-lined garden. So, as you can see, there are many ways to decorate the Virgo home but what unites the decor is the paired-down luxurious furniture which allows nature to be the protagonist.
The Virgo decorating style
In Greek mythology, the Virgo sign is closely linked to the goddess Persephone, daughter of Demeter and queen of the underworld. During Virgo season she made her 6-month-long trip to the underworld with Hades which signals the start of the Autumn/Winter season on Earth. Upon her return, in the Taurus season, the Earth awakens from its cold, barren Winter and flowers blossom and bloom. This analogy explains the contrasts of the Virgo decor style perfectly. They love light, fresh and clean surroundings on one hand and dark, academic and mystical surroundings on the other. Yet, there are ways of combining the two styles using decorative elements such as books, freshly cut flowers and antique items from bygone eras.
Virgo wall art
Since Virgos are highly visual signs, choosing wall art to set the scene is a good place to begin. White walls are a must for the Virgo home as they are simple, timeless and don't create visual clutter. Those with a Virgo sun sign will have a deep interest in the spiritual world and will hold an insatiable curiosity for esoteric subjects such as tarot. In fact, you are likely to find Zodiac-themed prints or even replicas of tarot cards dotted around the Virgo home. Because Virgos are ruled by Mercury which controls the realm of communication, wall art that features birds will remind the Virgo homeowner to be quick and stealthy with their messaging. Birds also hold sacred and spiritual symbolism in art.
Demeter is the goddess of wheat and agriculture and governs the Virgo sign. In Greek art, she is often seen accompanied by serpents and snakes so adding some snake wisdom to the walls honours the Virgo goddess energy.
Virgo bedroom decor
The Virgo bedroom should be a zen-like paradise full of natural colours and textures to calm Virgo's worried soul. House plants contribute a sense of calmness to any space and since they help to purify the air, they will aid a good night's sleep too. Play on Virgo's relationship with Mercury and dedicate this room to the moon. Place lunar wall art close to the bed and feature artworks of other planets around the room. Since Virgo's mind never stops running, add a bookshelf full of books on topics such as Greek mythology, ancient civilisations, wellness and food. Virgo loves order and neatness and the bedroom decor is no exception. Light-coloured bedding, a natural light source and dedicated spaces to store personal belongings are must-haves.
Virgo room decor: The living room
If the bedroom is dedicated to the moon and the dark then the living room should be dedicated to the sun and summer energy that a Virgo possesses. Just like Persephone, the Virgo homeowner thrives on the contrast between the two styles. Comfort should be the key feature of this room. Opt for soft furnishings in neutral tones such as beige and keep the design simple and elegant. Virgos are practical and hate anything that feels fussy or ornate. Wooden furniture can be incorporated into this room but make sure that any corners are rounded, not sharp as this helps to create a soothing environment. A wood burner would be a great feature for this room and will combine the earth element with fire – a match made in heaven. Balance this hot energy by placing a water-filled vase of freshly cut flowers in the room for a subtle finishing touch.
Virgo decoration style for the kitchen
The Virgo kitchen should be spotless, organised and have a light and airy feel to it. White or cream-coloured Shaker-style cabinets and furniture embody Virgo's energy perfectly. The classic, functional and understated nature of the design creates a timeless elegance that is present in the Virgo home. Since Virgos are governed by the goddess of wheat it should come as no surprise that the kitchen is where they will spend most of their time. Because of this, the space must reflect their personality fully. Containers are Virgo's best friend. Sort dried food into clear containers and store them out of sight inside cupboards. Reduce visual clutter from the kitchen sides and allow space for cookbooks to be displayed in pride of place on a bookshelf. The kitchen table is a key feature and since Virgo's power number is 6, it makes sense to pick a table that can seat 6 diners.
Virgo wall decor for the bathroom
Only the essentials will be found inside the Virgo bathroom. Not ones for clutter, Virgos will rely heavily on intelligent storage solutions to hide away bathroom objects such as washcloths, toiletries and grooming devices. Materials such as stone and ceramic will be common choices as they help to balance the abundance of aquatic energy present in this room. Since surfaces will be kept clear, the wall is a great way to let the Virgo personality shine through. Place prints of mountains or arable land inside metal frames to remind Virgos of their powerful earth energy. Again, illustrations of animals that represent Virgo such as their spirit animal the fox also act as reminders of their connection to the natural world. A bowl of earth-coloured crystals will also help to amplify this.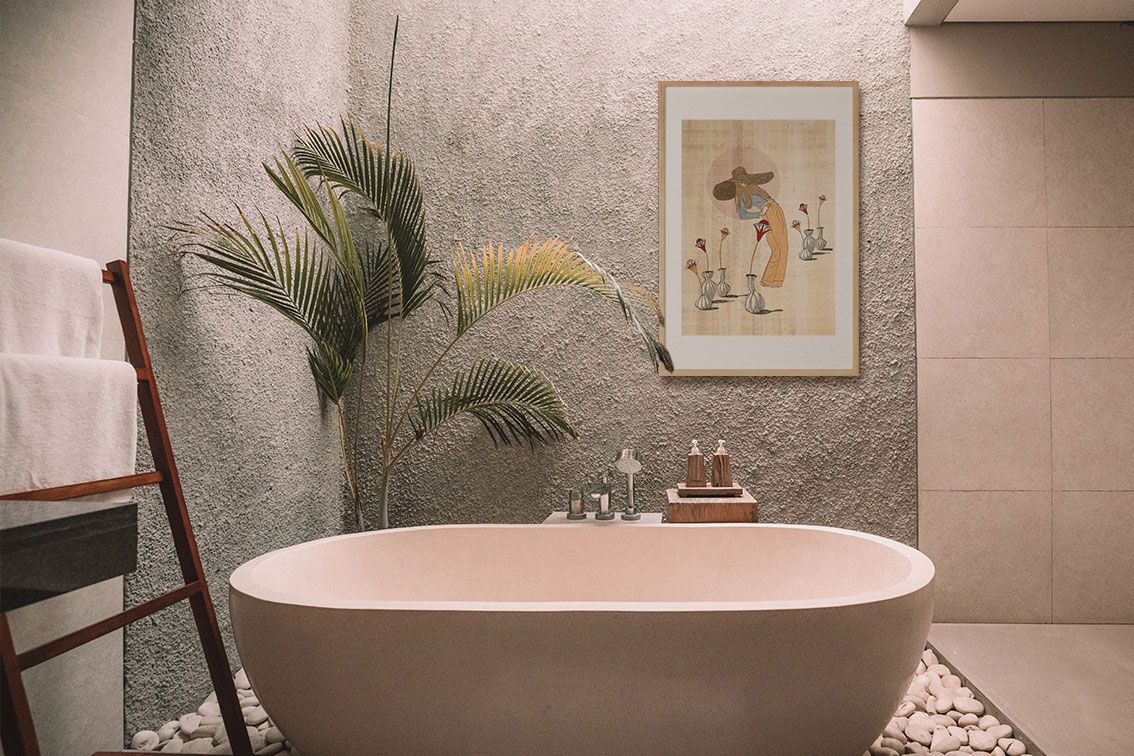 Overall, the Virgo decor style can be summed up as a classic, simple and luxurious. The materialistic nature of Virgos means that luxury is at the forefront when it comes to making decorating choices, yet this will be displayed in an understated way. The key takeaways for Virgo decor are:
– A light, neutral colour scheme
– Lots of houseplants
– Keep the space neat and organised
– Add wall art that reflects their earth energy
– Add reminders to their Mercury ruling with items such as a writing desk, a vintage telephone or wall art that features birds