Sometimes, finding the ideal gift for a loved one or friend can prove to be utterly mind-boggling. Not only do you want to get something unique and meaningful, but you also don't want to be spending a small fortune. This is why artwork and handmade gifts are superb choices for gifting something special – they are unique, thoughtful and packed with meaning. To help guide you in your quest to find an ideal gift for a special occasion, we have rounded up our favourite Boho-chic art prints from Tropia Art to take some of the guesswork out of the process.
Why is Boho-Chic art a great choice of gift?
While buying artwork for someone may appear daunting at first, there are many reasons why it makes a fabulous gift. For example, the Boho-chic art genre is laced with spiritual elements, mystical symbolism and powerful messages. Decoding these works of art allows us to discover qualities within the artworks that are similar to the people in our inner circles. Perhaps someone is going through a rough patch and needs the courage and strength to keep moving forwards. In this case, artwork that depicts a strong and courageous Goddess or God would be the perfect token of appreciation. Likewise, if someone is celebrating a birthday then there is no better present than Zodiac art. If you are not quite ready to put your art sleuthing skills to the test, we have done the hard work for you. Here are our Boho-chic art gifts for everyone in your address book. 
Inspire and motivate your BFF with Boho-chic wall art
They are the peas to your carrots, your ride or die and your connection is so cosmic that you can practically read each other's minds. Your BFF is worth their weight in gold and it is important that they feel appreciated, especially on special occasions. Wild feminine expression has been celebrated for centuries in the form of dances, art and the written word. Summer Dance pays homage to the beautiful intricacies of female friendship and celebrates the power of the female bond. Give this artwork to your favourite female friend to remind them of all the times you have let your hair down and danced the night away together, without a care in the world. Each time she will glance at the print, her spirits will be lifted and your support and care will wash over her, filling her day with positive vibes.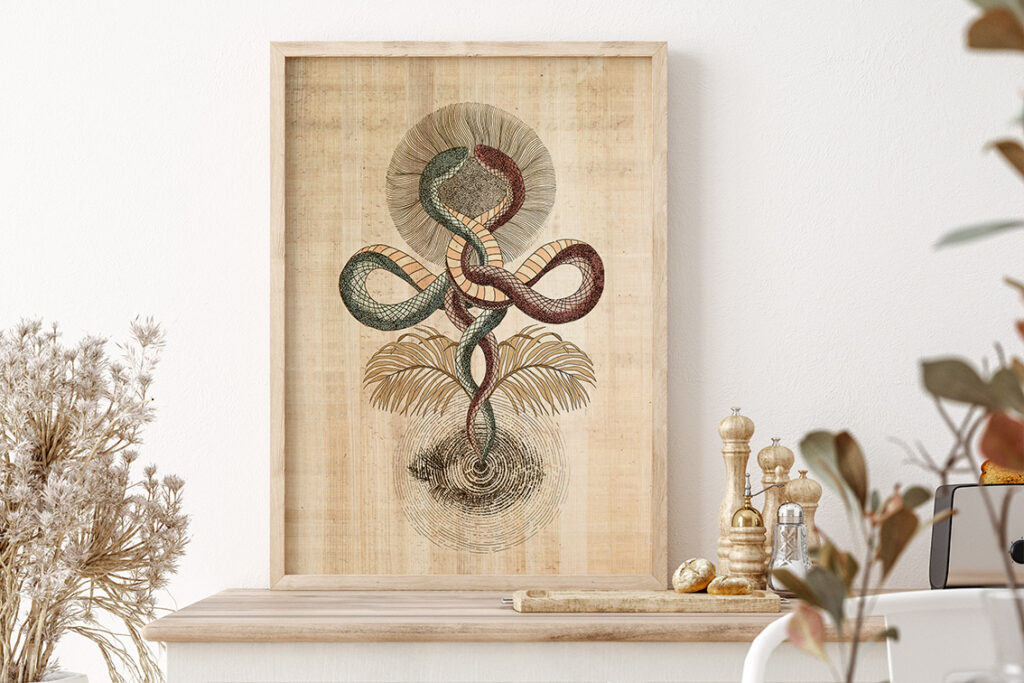 Her sensuality floods the earth beneath her, nourishing it to ensure that it is a fertile space for new life to emerge.

I am sure that God was and is a Woman – Tropia Art
Wall prints for the living room for the men in your life
Most men will tell you that they don't want you to buy them anything. Yet, you cannot turn up empty-handed to their celebration. While Boho-chic art tends to bring feminine images to mind, there are plenty of manly artworks that also fall under this category. Take Tropia Art's Ancient Force print for example. This print tells the story of the Mexican Olmec tribe and their mystical, shamanic beliefs which were strongly linked to nature and agriculture. Jil-Laura's Olmeca themed artwork will be sure to inspire wanderlust and intrigue as well as appeal to curious minds keen to explore the symbolism of an ancient civilisation. Anyone interested in filling their blank walls with a shot of colour, history and mysticism will definitely appreciate a gift like this.
Botanical illustration: A universal gift for all
Mothers, Grandmothers or soul sisters. There is no doubt about it: Women share a powerful connection with the natural world. In fact, it was because of this connection that women were accused of witchcraft. Thankfully the days of the witch trials are long gone and instead we are witnessing a resurgence of the feminine arts. So, if you have a green fingered Goddess in your inner circle, honour their ancient connection to Mother Nature with Boho-chic art that celebrates Mother Nature. The Myth Garden is a wonderful example of this. This print depicts a natural paradise, somewhat like the Garden of Eden where nature is present in its purest, most beautiful form. Infuse the home of your loved one with nature's powerful, healing energy and offer them the peaceful sanctuary of this tropical utopia.
Dark times call for sensitive art
Not all gift giving takes place under happy circumstances. Unfortunately life presents us with unfortunate events that require our innermost strength and wisdom for us to pull through. The death of a loved one is one such event. While Boho-chic art tends to portray a carefree, lighthearted outlook on life, it does sometimes touch on topics that require a deeper introspection for them to be fully enjoyed. The Beautiful Death print is a prime example of this. The viewer is instantly drawn to the image of the hand which symbolises human contact and life. Yet, upon closer look, this hand is being engulfed by a tropical tree and a beautiful serpent. Traditionally serpents are used in art to symbolise fertility and the creative life force. However, since serpents shed their skin, they are also a symbol of renewal and regeneration, further demonstrating the circle of life. If a close friend or a loved one is suffering a loss, this print can act as a talisman to provide them with hope and strength in their time of need.
Birthdays call for zodiac art
Stuck for gift ideas? Zodiac art is an ideal token for friends or family since all you need to know is their zodiac sign. This is a gift that feels personal, yet it is easy to pick out. Each one of Tropia Art's zodiac prints has been carefully constructed to take into account the symbolism, colours, personality and meaning behind each sign. These prints are packed with visual clues about your loved one and will super-charge their space with powerful, celestial vibes. Plus, for a few of the signs, there are more than one design to choose from. So, have fun deciphering the zodiac sign of your friend or relative and give them a gift that can be treasured for a lifetime.
Turn your bedroom into a boudoir with sensual art
Turn up the heat and tune into the carnal sensual magic of your passionate personality. Boho chic art is all about empowerment and giving in to our wild, untamed nature so it makes perfect sense that sensual wall art forms part of the genre. Channel your divine feminine energy and fill your walls with prints that celebrate the female form. Jil-Laura captures feminine beauty exquisitely in her prints Sunset Dew and Harvest Full Moon. Both of these artworks show the naked female form captured in a hypnotic trance with nature. In Sunset Dew passion flows through the woman's soul forming as dew once it clashes with the cold air. Her sensuality floods the earth beneath her, nourishing it to ensure that it is a fertile space for new life to emerge. This metaphor is extended further with the inclusion of parrot spirit animals which symbolises youth, long life and freedom.